I went to see Kanye last week for his final show in Brooklyn. I mainly went to hang with my pals, enjoy a free evening of music (thanks, D) and see A Tribe Called Quest because I'M OLD but I was also curious
go here
)
about a Kanye show. I have my own feelings about that dude and his show and his walking and crossing the line between confidence, cockiness and minor megalomania but that can be discussed at another time. This is just a collection of some of my tweets from the night. If you want an actual article with more substance that is almost as good as my booze fueled ramblings
I have edited these for spelling, context and to correct the mashed keys of a man who drank basically a tumbler of vodka and Red Bulls in addition to beers. Enjoy.
(Waiting before the concert to get in...)
- Dude is freestyling on this VIP line. No idea why...
My friends are the best.
(Private box seats before the show...)
Nice Red Bull view. Again, my friends are the best.
(ATCQ comes out and I'm instantly transported back to Queens and the 90s...)
- There are very few perfect moments. Watching A Tribe Called Quest live standing with my friend since 8th grade? Definitely one of them. #foreverfriends
- Highlights so far- Busta coming out and the CRAZY thick Low End Theory/Bonita Applebum chick
I repeat, CRAZY. Everyone stopped breathing.
- This chick is bad. Even the white boys have become mesmerized. #postracial #racism
- My friend-
"Remember when we were bumping these joints in the hallway, bruh. Bustah Rhymes just Hacksaw Jim Duggan'd 'Scenario.'"
(Yeezus just rose again... Or for the first time tonight...)
- As my brother would say "there are many white angels from Caucasian heaven" on this stage.
No idea what was going on but they wore fancy linens.
- Kanye looks like Liberace/Bane.
"Let's not stand on ceremony here, my minions."- L. Bane
- Where is WHITE Jesus?!
- In thrall to the cult.
The crowd was mesmerized.
- What? Did this dude just rise up on an iceberg? Is it snowing in here? Oh, it's snowing only on Yeezy. Okay.
Glacier or iceberg? It doesn't even matter.
- My friend-
"He's rapping while lying on a glacier. The only thing missing from this Kanye show is a virgin sacrifice."
(it didn't happen but I wouldn't had been surprised)
- Kanye is sitting on white women. That's all you need to know.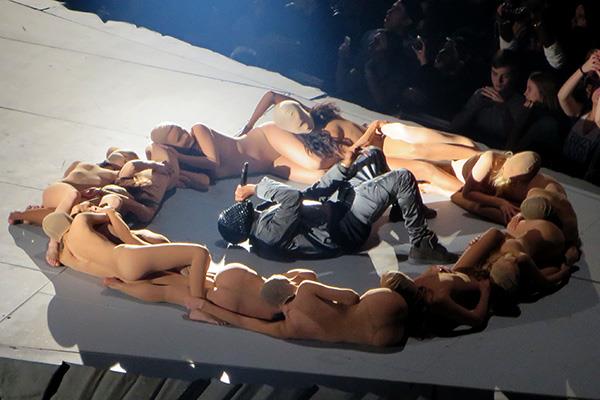 These white folks were once arranged in sofa form. Like Voltron.
- Is that... Is that a wendigo?
- Kanye came here to you folks that you don't believe in yourselves enough.
- My friend-
"Why is Kanye wearing Darkman's duster coat?"
- How do you have people hyped over one key being played? Really?! #toasttothedouchebags
- Kanye has been preaching/singing like R. Kelly for the last 15 minutes. Drink that Kool-Aid.
- Tesla?
- Kanye is now sparkly Deathstroke. Have no idea if I have really seen him tonight. That is all.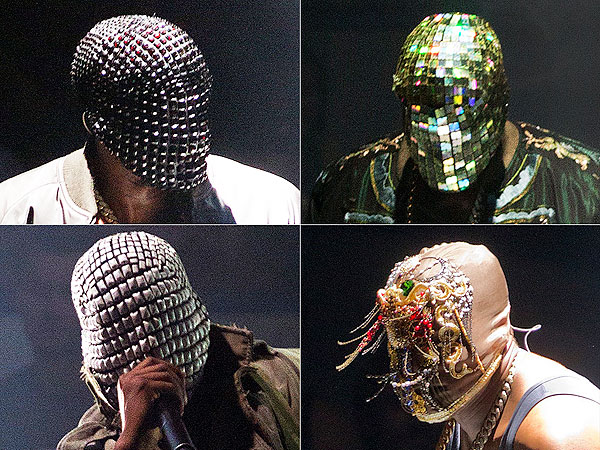 Really?!
- Is Kanye about to be sent to the grid? Oh, it's just the "Through The Wire" intro. Proceed.
- This concert needs some Aziz Ansari to break up the life lessons.
(At this point Kanye inserts something about the sound/monitor guy. I only caught about a second of it because I was focused on two-fisting beer at this point. Another one of my 20 friends who were randomly there also tweeted the next day what was up-
"Remember last night, when Kanye's monitor guy interrupted his rant and then Kanye yelled at us all that the guy made him lose his stream of consciousness and he was about to inspire us to cure cancer but now we were all going to have to live with cancer forever. hahahahahahahaha."
Dammit.)
- YES!!!! WHITE JESUS!
- White Jesus has revealed Ye's face. Finally.
"My son, why are you wearing that denim skort?"- Weezus
- Just FYI- Ye has the finest skirts.
- Kanye West- Deepest V Champion. Uncontested. For years.
- Phone dying. No more #Yeezus tweets. Sorry.
Phone went kaput. (I need a new one very soon) The concert ended soon after. My friends went to enjoy the night at club where Q-Tip was spinning and I went home like a semi-responsible adult, wired off of Yeezus energy, Red Bull and being with my friends.
The trip home continued the good vibes
. The night gave me a lot to think on and were all around good times.
>>>>>>>>>>>>>>>>>>>>>>>>>>>>>>>>>>>>>>>>>>>>>>>>
My final #Yeezus tweet (for now) was the next day-
"I'm looking for a shiny mask and a Darkman trench coat so I can be more #Kanye today. Where's my wendigo?! #yeezus"
"You may be talented but you're not Kanye West."- actual Yeezus quote